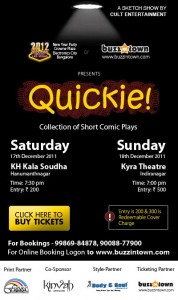 This weekend I will return to the stage. I will be performing two short plays in "Quickie…!", a collection of short plays.
This performance is dear to me for many reasons. First of which is that its my first play after almost a year, a year that has been heavy and testing for me. Another reason is that its the first time in almost five years that I will be playing two different roles in the same evening :)
But the most important reason is that I will be performing a play that I fell in love with the first time I heard it. Written by my dear friend Abhijit Bharadwaj, "Strangers by Night" is truly a magnificent piece of writing. Preparing and working on the play has been a wonderful experience on its own.
Working with so many wonderful people, many of whom I hadnt met till a month ago, "Quickie…!" will carry with it the weight of some lovely memories.
You are invited to come and watch "Quickie…!" to be performed this weekend in Bangalore(17-18 Dec 2011). The schedule and venue details are below:
Saturday, 17th Dec 2011 @ 7:30 pm
Venue:
KH Kalasoudha,
Near Ramanjeneya Temple,
Hanumanthnagar
Sunday, 18th Dec 2011 @ 7:00 pm
Venue:
Kyra Theater & Restaurant,
100 ft Road,
Indiranagar