Godhi Banna Sadharana Mykattu Review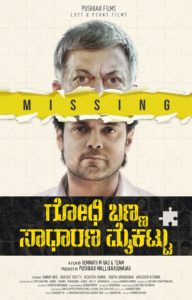 A son in search of his Alzheimer suffering father. A gun for hire caught in a tangled mess of a job. A caring doctor who quietly fights her personal battles. A good samaritan caught up with unwelcomed guests in his house. An old man lost in a world with fading memories. These form the heart of the rollercoaster ride of emotions that is Godhi Bhanna Sadharna Mykattu.
The Kannada Film industry, recently has been seeing a renaissance of sorts. Godhi Bhanna Sadharna Mykattu(GBSM), Hemanth M Rao's emotional heart touching Debut does a fine job in boosting it along.
Armed with a brilliant script, beautiful camera work, heart tugging background score, perfectly carved dialogs and a legend in a performance of a lifetime, GBSM manages a perfect balance between a comedy, thriller and coming of age story.
GBSM is the story of a son's search for his missing Alzheimer suffering father. Who in a twist of fate gets entangled with two criminals in a hit gone bad. The search brings the son to the brink of re-contemplating his life choices and his relationship with his father.
What stands out in GBSM is the perfect balance between the scenes, acting and pacing. With every act the characters grow constantly and your attention is held perfectly.
Anant Nag's performance as a father with Alzheimer torn between his inability to reach out to his estranged son, is nothing short of spectacular. I found it impossible to look away from him even in scenes where he is out of focus in the background.
Another stand out feature of GBSM was the smart device in the script to use the responses from the Alzheimer suffering father to control the emotions in the scenes. A coy quib about a marriage proposal at tense moment, an unexpected request for a half liter of milk at an emotional moment of separation, clearly shows the control that Hemanth had on the script.
GBSM scores high on its narrative style. A great measure of talented filmmaker and editor is their ability to use the silences for more than their worth. Hemanth and Srikanth Shroff do this perfectly, adding emotion and subtlety to these scenes that truly make it inseparable from the story telling.
Rakshit Shetty does a commendable job as the brash son and is perfectly complimented by Shruthi Hariharan, the duo do a great job holding the main thread of the film squarely on their shoulders. Vasishta N. Simha as Ranga and Ravikiran Rajendran as Manja do a brilliant job as the criminal duo in the second thread. Achyuth Kumar's performance as the good Samaritan caught up with the two criminals provides the perfect comic relief right through the film.
All in all Godhi Banna Sadharana Mykattu is a movie that must not be missed. If you can, watch it with your parents, its the perfect film to enjoy and bond with family.