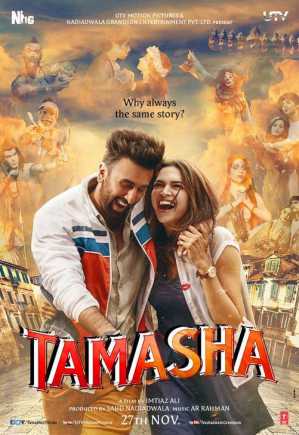 Tamasha is Imtiaz Ali's ode to Before Sunrise, Serendipity, ZMND, DDLJ, 3 Idiots and the entire art of story telling in general. In its core it explores the relationship we have with ourselves and the fears that we live by.
In a sense Tamasha is a love story, but like all love stories in Imtiaz Ali's films its far more complicated than an average Bollywood story. While there are hardly any external forces effecting the relationship, its the internal challenges that drive most of the conflicts.
Before all that… Most of the first hour of the film has us threading the beautiful paths of Corsica, France. The Protagonists, Ved(Ranbir) & Tara(Deepika) meet and decide that since they have to go back to who they are in life after the vacation, they should not know who they are. Instead they assume characters for the duration of the vacation.
The romantic conversations that follow are beautifully written (humor perfectly placed in the interim) in the entire first half. The highlight is clearly Deepika's acting which is nothing short of spectacular, esp the scene when she speaks with Ranbir for the first time in India.
The second half of the film goes dark very fast. As Ved fights a very visual fight with his inner demons. It takes nothing short of one of the best performances of Ranbir's career to portray a character with so much inner turmoil that he cant see straight.
Dont miss the scene in the Bar with the two protagonists, brilliant doesn't even begin to describe it. And… the hilarious scene with his boss (I cant remember laughing that hard in a theater in a long time)
The movie has its beautiful moments, moving moments and moments of pure awe. But somewhere along the way, there is a sense that Imtiaz just went over the edge. The movie feels about 15min longer than necessary(in the second half).
The background score is near perfect in the movie, which sadly lacked the power that music bought to Rockstar (and for that matter Highway). The camera work and visuals are breathtaking, and clearly demand your attention.
This is probably Deepika and Ranbir's personal best acting performances of their careers. Deepika's finest moments weren't the sad tear jerking moments but the scenes where she is truly smitten and unable to conceal it. Ranbir's scenes with him fighting his demons are almost as if two different actors performed the scene.
This could have been Imtiaz Ali's finest movie till date but there is a sense that he got slightly carried away(in the second half).
Frankly, I don't feel Imtiaz makes movies to make money, because someone who wants to make money would never make this movie (or Rockstar or Highway). Imtiaz's films are made to stand the test of time, to be remembered for its performances/writing/film-making… In that sense, he did succeed with Tamasha…