Michael Schumacher yesterday in an emotional post race press conference announced his retirement from Formula One, his explanation about this decisions is that his parents  are older adults and will require home care assistance and extra help. The next 3 races will be last time we will see the most successful driver in Formula One on track.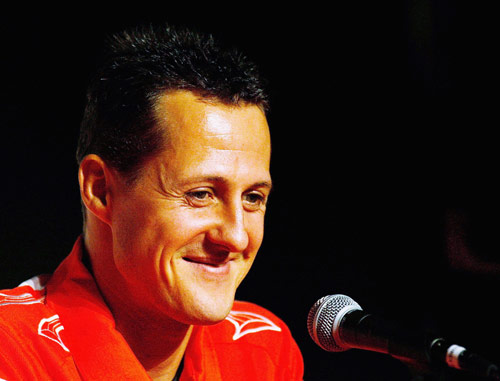 I was a die hard fan of Michael until 2003 when a certain Spaniard's drive in Malaysia stole my heart(that is a story for another day).
Michael was the only name in Formula One that I knew of back then… My first race was the one in which Mika retired in the last lap gifting Michael the victory. The next few years saw my love for the sport shoot right up. I cheered for the Scarlet cars and watched as no competition came close. Until the end of 2002 I toasted every Schumi victory and every Ferrari success. Then came the grandprix of Austria 2002… Team orders and after that for the first time a team I supported lost respect in my eyes. It was a downward spiral from then on…
On this day where I saw emotion in the eyes of every Ferrari fan I encountered I dont want to throw dirt on a World Champion or point out his flaws. He was a brilliant driver who would do anything to win… Maybe its what the sport demanded of him. He is still a great human being and my respect for him as a person is a million times what it will be for him as a professional.
There was a time I considered him a god… I dont anymore(I even laugh at myself sometimes thinking how naive I was to think that). He is and probably will forever be the most successful driver in F1… I hope no driver ever has as much success as him(not even Alonso) coz its bad for the sport.
A Toast to Michael Schumacher… One of the best drivers I hv had a pleasure of watching and supporting. Thanks for those happy moments you gave me and the Tifosi :)
As for Kimi :) I am happy you will finally get a car that will finish races and I look forward for a brilliant Kimi-Alonso era.